The Pros of Programmatic Digital Out-of-Home Ads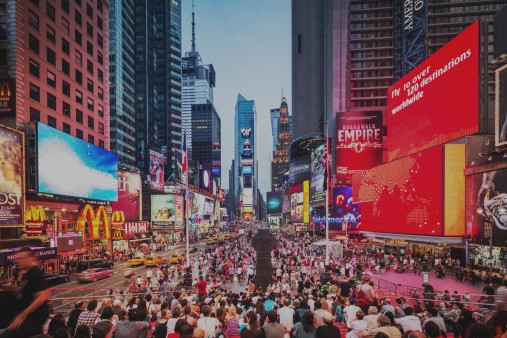 Billboards and other out-of-home ads are making a huge comeback, thanks to new opportunities in digital, such as programmatic advertising, which enables out-of-home inventory to be bought and sold through the use of software. Out-of-home advertising spending is projected to grow nearly 12 percent by 2020 — faster than other traditional media — because of new capabilities that allow brands to buy in real time. If you think the era of billboards has come and gone, explore these pros of programmatic digital out-of-home ads.
No Such Thing as a Bad Placement
Out-of-home advertising, such as billboards, has always been a superior form of advertising because of its high visibility, leading to an unmatched number of impressions. Unlike online ads, which can often be blocked by ad-blockers, out-of-home ads endure. "The great thing about Digital OOH is that there are really no bad placements, so there will also not be a race to the bottom like we had in display," said Dan Larden, partnerships director at media agency Infectious Media.
Real Time = Real Solutions
In 2017, Virgin Trains used traffic and geo data to develop an OOH first: a comparison of journey times between car and train. This allowed them to accurately tell drivers who were stuck in traffic how much longer their journey would take them by car compared with how long it would take by train. Integrating real-time data feeds into a roadside campaign resulted in a clear and hard-to-ignore message for potential consumers: You should have taken a train.
Use Social Data to Target Fans
Using mobile data from apps, Instagram and Twitter, Guinness was able to identify potential audiences with a passion for its products as well as sports and pubs for an out-of-home location-based campaign. The ads were displayed on Adshel Live, LDN and Tesco SmartScreen networks and other retail point-of-sale sites within close proximity to retailers. "Guinness has always invested in out-of-home because of the rich creative canvas and brand-building opportunities it offers, but the innovation we are seeing in the medium means it can offer even more," said Alexa Wolff, Guinness senior brand manager.
Performance Data at Lightning Speed
If ads are bought and sold in real time, then performance data can also be transmitted in real time. In the recent past, out-of-home metrics were mostly estimated. How could you possibly measure how many people stopped to look at your ad or consequentially made a purchase? According to Craig Benner, ad industry veteran and founder of Accretive Media, a programmatic DOOH advertising platform, estimates are becoming more concrete thanks to digital and programmatic capabilities. "In addition to the typical foot traffic reporting, which is now in its maturity, things like website visitation, online sales, tune-in, offline sales, return-on-ad spend, and more are becoming available," he told Martech Advisor. "Every time these reports are surfaced, we see that OOH performs fantastically versus other channels because it's a high-view, high-impact, high-success format that is hard to ignore." In this age of impatience and an on-demand economy, it's clear that programmatic digital OOH provides something that both the consumer and the advertiser want: immediacy.
References: